I have a passion for open dialogue about the real and raw places we really live. A passion for the places in our minds we're afraid to share with others—mostly because of fear.
Fear that we are the only ones.

Fear that we are crazy.

Fear that no one would understand.

And ultimately fear of rejection altogether.
And I would bet if I were to ask you to be gut-level honest with me, sexuality is one of those real and raw places–a place of struggle, uncertainty, or even failure. God has created us as sexual beings, with real needs and desires that are good. And yet there's often concern, confusion, or guilt and shame in this area. And our struggle is made even worse by the silence that marginalizes all we are dealing with inside. As Christians, the great majority of churches are failing to open the discussion or dialogue about our ongoing struggle in this area at all.
The recent craze of the Fifty Shades trilogy has also heightened the need for discussion in this area, particularly among Christian women.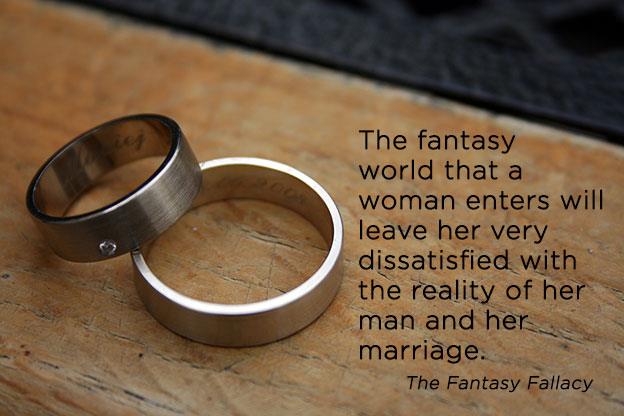 Questions and controversy have arisen with a need for open discussion. There's such a need to talk about these topics openly, instead of blatantly judging and blindly rejecting our fantasies, without even understanding them.
This is why I'm so very thankful to Shannon Ethridge for her recently released book, The Fantasy Fallacy: Exposing the Deeper Meaning Behind Sexual Thoughts
.
I was privileged to be able to read a pre-release copy, and once I started I had a hard time putting it down! Because honestly, we all have sexual thoughts. We are sexual beings. And Shannon's bold and transparent discussion of this topic is enlightening, informative, inspiring and relieving all at the same time.
Did you know … 3 out of 4 people have sexual fantasies, and that sexual fantasies hold deep meaning for us to understand ourselves more?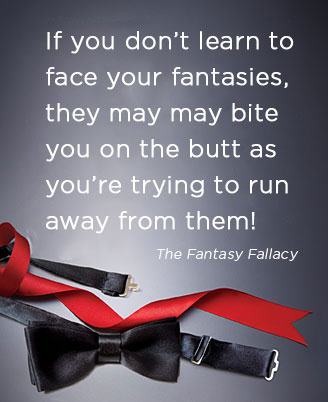 "Fantasies are really just the brain's way of trying to heal itself … fantasy can help numb unbearable pain and can serve many good purposes … And if you don't face your fantasies, they may bite you on the butt as you're trying to run away from them."         ~The Fantasy Fallacy
In this book, Shannon asks the crucial question to us all: Are we willing to be real with our own selves, our thoughts, and the fantasies of our mind? She communicates the purpose and goal of the book, defines what a fantasy even is, discusses the benefits of boundaries, the issues of pornography, and the different faces of our fantasies, exploring the deeper meaning beneath them.
"Will you accept the invitation to expose the deeper meaning behind your sexual thoughts and let them heal you, rather than hurt you? … because to expose the deeper meaning behind our sexual fantasies, some soul work is required … to identify not just the surface of the fantasy but the very source of the inner tension." ~The Fantasy Fallacy
Over a decade ago, I let my thoughts go down a path I never intended to travel. Those thoughts, one after another, led me down a path I never imagined I'd travel–a journey I'll be sharing with you here soon. But for today, please know I feel so very strongly that we must get real with ourselves. It is imperative we acknowledge the truth of our minds and purpose to do the hard work to understand and handle the sexual thoughts and fantasies that reside there.
This is not some small situation.
For many of us our very lives are at stake if we don't deal with this now. Our sexual thoughts are powerful and our fantasies aren't going away. And it's not until we're willing to do the hard work of acknowledging them, understanding them, and dealing with them, that the freedom and healing will come. I personally know that to be true!
"We are the captains of our sexuality ships … with God's help we have the power to stay completely on course as we navigate the water of healthy sexuality." ~The Fantasy Fallacy
Blessings to you, as you join me in purposing to be gut-level real with your own heart and mind!
Jacque
What do you think would help open up the conversation of our struggles in this area?
Have you personally struggled alone with these issues?
How are you willing to break open the conversation?
And please don't forget to check out Shannon's other amazing books:
You can also find her on Facebook or visit her at her websites:
http://www.shannonethridge.com