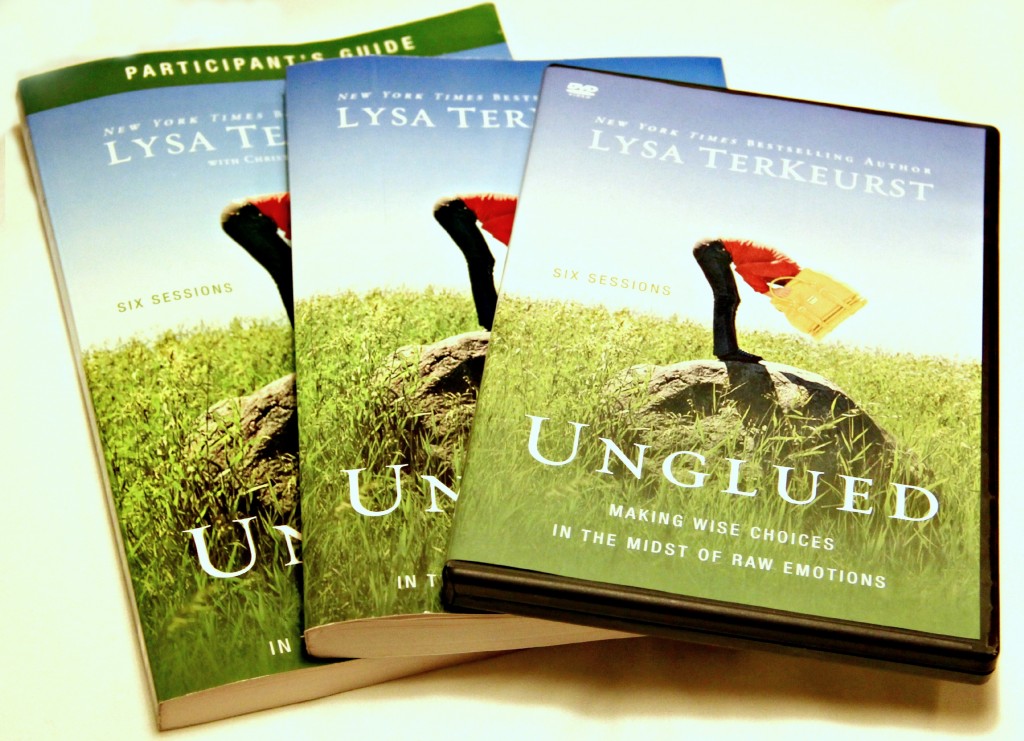 Coming unglued seems to be an epidemic …
I can't begin to count all the times I've been unglued…
When she wrote with Sharpie all over her arms and legs. Twice.

When we spent a lot of money on his orthodontics and he didn't "want" to wear his retainer.

When she failed to follow through and it greatly inconvenienced me.

And when he accused me of being selfish and only thinking of myself, which of course would never be the case, right?
And I'm guessing it's the same for you too!
Becoming unglued are times when our emotions are raw and our reactions are faster than our minds can think through them.
And you know what inevitably happens?
We get ourselves in a whole lot of trouble.

We feel bad and have regrets.

We wonder, "Why did I ever say that at all?!?"

Our reactions reduce us to broken relationships, requiring apologies to repair.
And we begin to doubt we'll ever get it right.
And because of all that, I can't be more excited to be studying Lysa TerKeurst's new book Unglued: Making Wise Choices in the Midst of Raw Emotions with you all!
Because I need help in this area, and I'm thinking you might too! Amen?
As we dive into this journey, let's realize right off the bat, we will fail. We will.
But as we do, God gives us grace and He has no desire for us to have self-condemnation. Our growth and progress has to have a beginning, and now is as good a time as any to start.
This week we'll be diving into Lesson 1 in the participant's guide, and reading Chapters 1 and 2 in the book.
We'll begin to learn that although our feelings aren't wrong, they are meant to indicate where we are, not dictate what we do.
So this week our goal will be to keep a log of our raw reactions—to recognize when those raw emotions surface, so we can know our trigger areas and be aware of our beginning point. Because after all, how can we begin to make imperfect progress, unless we become aware of our most triggering situations?
As you identify your raw emotions this week, keep a log answering the following questions:
When you experienced raw emotions…
With whom were you interacting?

What was your physical and emotional state before the event?

What happened that prompted your raw reaction?

And how did you actually react?
As we begin to see where we're vulnerable, we'll be better equipped to begin our journey of imperfect progress, one reaction at a time.
What could be better progress than that?
What are you hoping to learn from Unglued?
What situation or circumstance finds you most Unglued?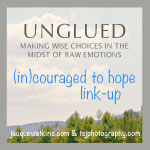 Now it's your turn!
Tracie and I would love to have you link-up your reflections and thoughts about our study of Unglued … and don't forget to visit each other with lots of comment love!
And if you don't blog, leave your thoughts in the comments!
Let's (in)courage one another with hope!!
Ready. Set. Go!