If there's one thing I'm learning lately, it's that suffering is inevitable in this life. That no matter who we are, no matter what we have, and no matter where we live, we will have hard things to face.
And yet it's such a challenge to welcome the suffering–to embrace adversity…
To look forward to it with a true attitude of joy,

To embrace it as an opportunity to grow our character, refine our rough edges, and re-make our hearts to love deeper, reach farther, and think beyond our current circumstances.
To welcome suffering, is really to say yes to God.
To say yes to what He gives, as hard as it may be…
Yes to the job loss

Yes to the chronic illness

Yes to the broken relationships

And the messiness of this life
Because isn't it our perspective that's the problem?
Our limited perspective, that makes us see the hardship of our circumstances instead of the greatness of the work He is longing to accomplish in us?
Isn't it the obstacle of our own selves that's the problem, not what He gives?
Our selfish, narrow-minded ways,

Our finite perspective of how WE think things should go,

Our limited view that keep us from seeing the good that could lie beyond what our eyes see today.
I'm learning that joy transcends my circumstances, and that joy is rooted in my thanks and trust.
Do I really believe He is good, all the time?

Do I really trust that He has this under control and knows exactly what He is doing?

Do I believe he not only CAN but WILL—that He IS working it all for my good, in His time and in His way?
May we welcome ALL He gives.
And in the midst of whatever that is, may we lift our eyes and look to Him—look forward to His help, and welcome whatever it is He is longing to accomplish in us.
 How have you wrestled with the problem of suffering?
What have you learned along the way?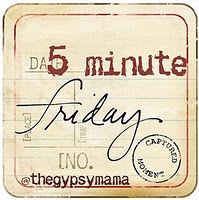 I'm joining Lisa-Jo, over at her site today, to take five minutes and just write without worrying if it's just right or not. The challenge is to write for 5 minutes flat with no editing, tweaking or self critiquing, with the prompt she gives. And today, her prompt:
Welcome…