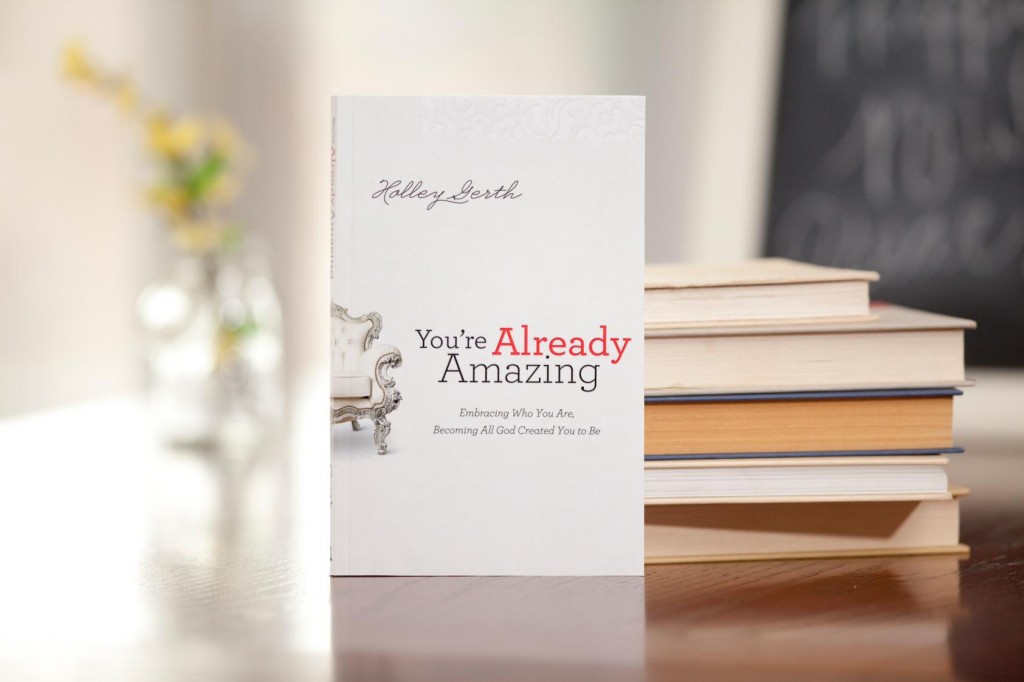 There are few things in life I enjoy more than sitting with someone I love and talking—talking over lunch, at a family gathering or a simple playdate at the park. I crave connection, and find great satisfaction in the process.
And this is what it's like to read Holley Gerth's new book, You're Already Amazing.** It's like meeting her at your local Starbucks, and listening to her share her transparent heart.
In her book, Holley encourages you to embrace who you already are, and become all God created you to be. Her writing is practical, her humor refreshing, and her passion obvious…
"Pssst…pull up a chair and I'll tell you a secret. You'd better lean in close for this one. Ready? You don't have to do more, be more, have more…you're a daughter of God, a holy princess, a woman created with strengths you've yet to fully grasp and a story that's still being written by the divine Author himself. And if you really take hold of who you are and what yhou're called to do, there will be no stopping you. That's because ther's no stopping Him in you—and he's got bigger plans for your life than you've even imagined."
Amidst the pages of this book, Holley not only inspires, but equips you with tools that are easy to understand, giving you the ability to implement realistic goals.
She uses God's Word to explain concepts, and then gets super practical, asking questions and giving you tools to brainstorm the answers. And then, using her counseling background and coaching enthusiasm, she helps you make a plan, and propels you to move forward in your growth.
 In this book, Holley will help you:
Discover your strengths and skills
Explore who you are called to serve, by identifying the relationships you already have
Uncover the lies that prevent you from believing that you are already amazing
Learn to replace those lies with the truth
Discover your emotional style, and learn how to prevent your emotions from hindering you
Become aware of the journey God has for you, and grasp the various phases of that journey
Uncover why you hold back your heart in relationships
Be empowered to surrender your issues of control to really love others more
Identify your social strengths, and develop a strategy to remain in those strengths while being led by God's spirit
Investigate what God is really calling you to do with your life, in your current season
Formulate your own plan, to take steps to move in the direction God has for your life, while discovering what entangles you and prevents you from moving forward
Become enabled to take care of yourself without guilt
Learn how to fully receive from others
You will be blessed by reading Holley's words.
And, I'm so excited to tell you about a chance to join Holley and other (in)courage friends, together in community.
For the next 6 weeks, over at the Bloom Book club, they'll be reading through Holley's new book, You're Already Amazing.
Check out their book club schedule below, and click on over to enter their book club giveaways that are ending tomorrow.
Through this book, Holley wants you to know that …
God really can use ALL of you,

That what you have to offer really IS enough,

That you really ARE loved more than you know,

And that there really IS such a wonderful plan for your life.
She wants to share with you how amazing you already are!

What book are you currently reading?
Have you ever joined a book club?
 **I was provided a copy of this book to review for this post. I was not compensated in any way for this post or it's links, and all opinions are 100% my own. This post DOES NOT contain affiliate links, and is offered as an informative and honest review.