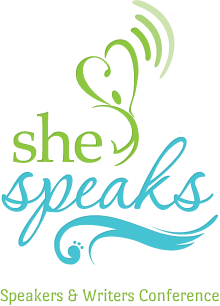 I'm sure it's no surprise to you, that up 'til now, I hadn't considered myself a writer. In fact I celebrated when my last college English class ended, thankful that I'd never have to write a paper again. But in the process of blogging in this space I am becoming a writer.
In fact I am a writer.
And although blogging is new to me, I love that it is a ministry. I love that it allows me to be a vessel–to share my life with you, to seek to encourage and inspire you with intention.
And being used is not only the result of being willing, but also of being equipped—of growing and learning and practicing to write. Stringing together words to share with you, with the hope that you will be drawn closer to Him as a result.
And I'm so excited to share with you an amazing opportunity I have to become better equipped as a writer this summer…
In July, I'll be attending She Speaks, a conference in North Carolina that equips writers, speakers, and women's ministry leaders to bring God's peace, purpose, and perspective to today's busy woman.
She Speaks teaches women to make the most of their message, by helping them become more effective at sharing God's mission of love and hope to the hearts of women.
Will you pray for me as I prepare to attend She Speaks this summer?
That I would absorb the instruction, grow in my writing, and become more effective in sharing the hope we have in Christ. Because I long for women to know about the mercy and grace He gives, so their lives can be changed and their hearts can be healed, by the power of His love.
I covet your prayers.
And beyond your prayers, if you feel led, there is an opportunity for you to join in helping me raise support for this conference–and if you can't, I SO understand, but if you are able, you can help by sending a tax-deductible donation one of two ways:
1. Call Proverbs 31 Ministries at 877-731-4663 to contribute by credit card,
or
2. Send a check directly payable to Proverbs 31 Ministries:
Proverbs 31 Ministries She Speaks Scholarship/Jacque Watkins 616-G Matthews-Mint Hill Road Matthews, NC 28105  
Please be sure to designate the scholarship in my name, in order to credit my scholarship fund.
You will be receipted for your tax-deductible donation.
And could I ask???
If you are praying for me (or helping with support), would you consider leaving me a comment?
Would you write a few words and tell me how I can pray for you today??
It would be such a privilege to pray for you.
Thank you so very much for your prayers and support, it really means so much to me!

For more information: www.shespeaksconference.com
Continuing on, in the counting of One Thousand Gifts {#1326-1340} with Ann and this community, and the Joy Dare of 2012 with March's  printable…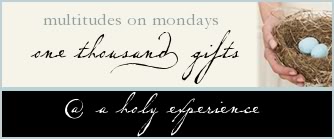 #1326 An amazing conference to attend

#1327 The chance to attend with Alex and Joanne, and Denise, and Denise … such wonderful women

#1328 A handwritten thank you note in the mail

#1329 Late night theology talks

#1330 Inspiring consultations

#1331 Helpful online workshop links

#1332 Dreaming and Crafting and Drafting my Story

#1333 Healing and hope among co-worker relationships

#1334 Planting bulbs in the cold dark soil with my hands

#1335 Southern California rain

#1336 Being married to my best, best friend

#1337 6 weeks of fun and long talks on Sunday nights with our mentor couple

#1338 Spring break and laid back mornings

#1339 Waking to the singing of my girl

#1340 The way God loves me and meets me, no matter what…602 days and counting, of meeting intimately with Him