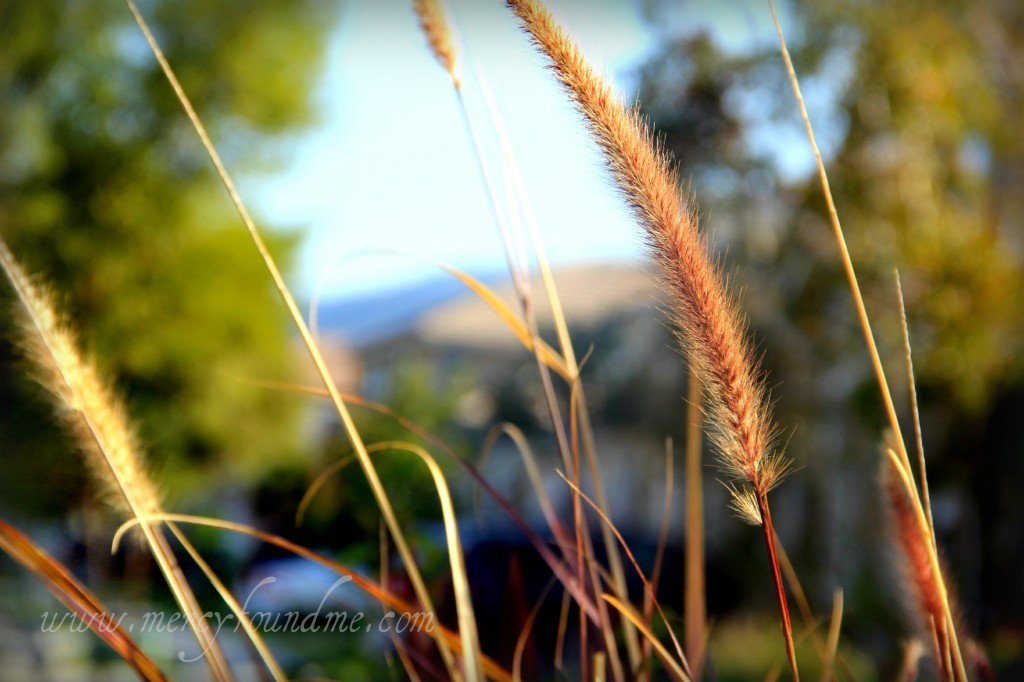 I have my share of weary and troubled days–times where I just want to "clock out" and say I'm done. Days when the house is a mess, no one behaves, tasks aren't getting done, and discouragement sets in like a hovering cloud.
Days when every little thing irritates me and I just can't seem to make the irritation go away. Kind of like my times growing up, when I tried to play outside–having fun and exploring our 23-acre orchard. But no matter how hard I tried to avoid them, the foxtail stickers would somehow get through my socks and poke me straight through … always refusing to let me pull them out.
And then there are days way beyond irritating and weary. Days where there is grief and profound suffering–the suffering that comes from the end of a marriage, the death of a child, a chronic illness, or financial devastation and the consequences it brings.
In whatever way we are troubled or suffering, it is often hard to see any light at the end of the tunnel. It's a challenge to hang-on to any hint of hope. There are sleepless nights full of anxiety and fear, and days when the tears just won't stop.
And we cry out to God with the questions that come–real questions that beg answers. And just like the Psalmist, we begin to doubt that God sees, or even cares.
Jesus said we would have trouble in this world, but He promises that He has overcome the world.
And He calls us to follow Him–in His suffering and in His surrender.
He calls us to carry our cross, and to die to self.

He asks us to throw off our old self and put on the new self, the one He made for us in His likeness–in righteousness and holiness of the truth.

 
And we forget…
His ways are not our ways, and His thoughts are higher than our thoughts.

He is before all things, and in Him all things are held together.
And while grief and suffering are devastating and real, either God is who He says He is, or He is not.
Either His Word is true or it is not, and we get to choose which we believe.
And that is the challenge … we must choose.
I know for me, especially in those weary-feel-sorry-for-myself days, I sometimes resist being comforted. I choose my subjective view for my sorry-self, and roll in the mud of discouragement. I lose perspective and remain disturbed and distressed by my own choice.
And that is because dying to self, especially amidst trouble, is exhausting. It. Is. Hard. Unnatural. Challenging. It takes effort, and it is not fun.
Sometimes it becomes easier to just stay weary, our soul refusing to be comforted by the process of dying to self and instead, resting in Him.
Because it is hard to lay down our idea of how God should run things, we refuse to yield to His Lordship and Sovereignty. We choose to forget all about His character, and all He has done for us in the past.
And the Psalmist suddenly realizes this–that it is not God who has changed in his suffering, but his suffering has changed his view of God. And what does the Psalmist do to remedy his dilemma?
He remembers.
He combats the discouragement and doubt by recalling all God has done.

He meditates on the way God has worked.

He acknowledges the character of God.

And he reflects upon the miracles God has done and the way His mighty power has rescued and redeemed people–how it has redeemed them, even from their mud-wallowing selves.
And when we realize that God's tolerance and redemption of us transcends our understanding, we are freed, even in the middle of our suffering. We are freed when we choose to believe Him and trust that He pursues us relentlessly–that He is always faithful, and that His kindness toward us never ever ends.
And so, whether in my weary days or in times of overwhelming suffering, may I remember. May I cease the wallowing of the why-me's and the if-only's … and may I remember who He is, all He has done, and all He has promised He will do.
Oh how He loves us so, especially in our troubled and suffering days.
May you remember today, and may you know He is so very near.

How has your faith been challenged amidst suffering?
How can I pray for you?