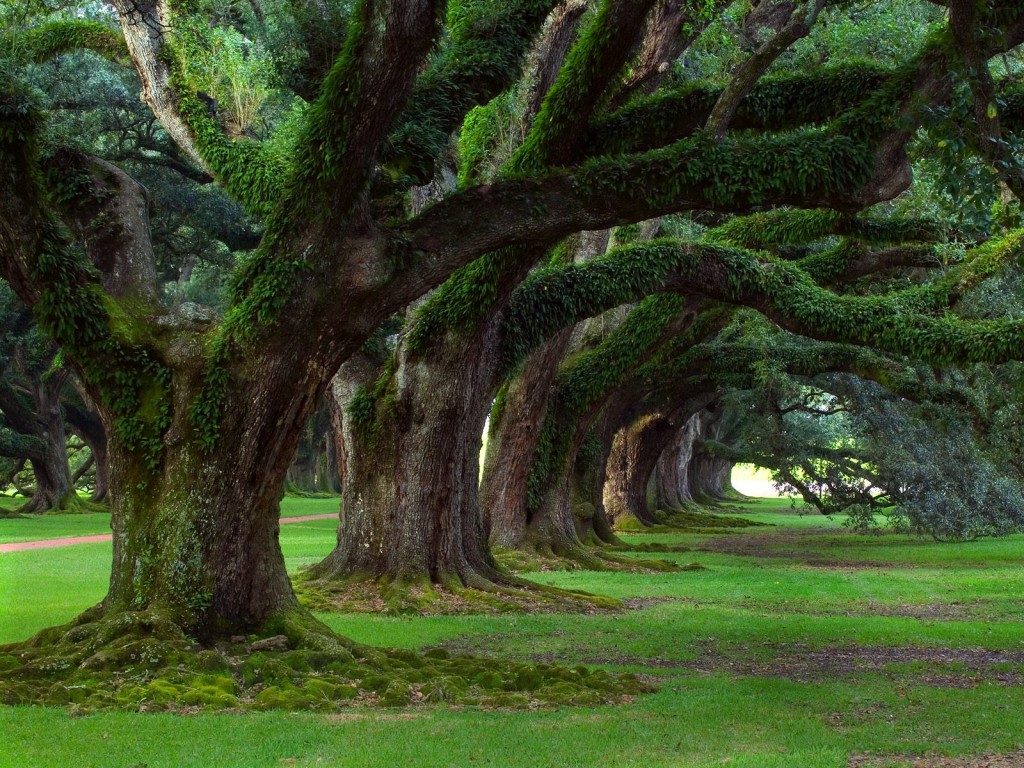 God's Word is true and His promises are sure. In fact they remind me of these live oak trees, standing strong and immovable, protecting whatever is beneath them. And we can have confidence and know that whatever He promises to do, He will do.
And as this New Year is beginning, may your heart be rest as you are reminded of ten promises of our God.
1. God is always good and ready to forgive.
God is waiting and He is good, and He longs to forgive us. It's like He's ready at a moment's notice–in the instant we surrender and ask. And His forgiveness is immediate and complete, and He not only forgives, He forgets too.
Psalm 86:5 (NASB) For You, Lord, are good, and ready to forgive, And abundant in lovingkindness to all who call upon You.

 
2. There is NOTHING that can separate you from God's love.
No matter where you've been, what you've done, or what's been done to you, none of it can separate you from God's love. His love for us never changes and is not dependent on anything we can do better. In fact God won't love you any more than He does already, no matter what you do. That's how amazing His love already is for you!
Romans 8:38-39 (NASB) For I am convinced that neither death, nor life, nor angels, nor principalities, nor things present, nor things to come, nor powers, nor height, nor depth, nor any other created thing, will be able to separate us from the love of God, which is in Christ Jesus our Lord.

 
3. God hears your cry and is near when you call.
God is ready and waiting. There is no sound more desired by His ears than your cry to Him, and He meets you then, right where you are. In fact, He has been right by you all along, begging you to cry out to Him. And when you call, He hears you and is so very near.
Psalm 34:17 (ESV) When the righteous cry for help, the LORD hears and delivers them out of all their troubles.   Psalm 145:18 (NASB) The LORD is near to all who call on him, to all who call on him in truth.

 
4. God always redeems and restores.
No matter how horrific the situation or the past you have endured, God can transform it into beauty. He can weave and work through the most tragic circumstances, and turn even what was meant for harm into blessing.
Psalm 130:7 (GWT) …because with the LORD there is mercy and with him there is unlimited forgiveness.   Romans 8:28 (NASB) And we know that God causes all things to work together for good to those who love God, to those who are called according to His purpose.

 
5. God is greater than your heart.
When you have made choices that make it hard to forgive yourself, God knows all things and His love and acceptance is greater than your self-condemnation. He wants your heart to be assured before Him, and He wants us to forgive ourselves as completely as He has forgiven us.
1 John 3:19-20 (NASB) We will know by this that we are of the truth, and will assure our heart before Him, in whatever our heart condemns us; for God is greater than our heart and knows all things.

 
6. God will never leave you or forsake you.
There is no place you can go and no circumstance too extreme, that God is still not with you. He adores you and prepares the way ahead of you, and doesn't want you to be afraid.
Psalm 9:10 (NASB) And those who know Your name will put their trust in You, For You, O LORD, have not forsaken those who seek You.   Deuteronomy 31:8 (ESV) It is the LORD who goes before you. He will be with you; he will not leave you or forsake you. Do not fear or be dismayed.

 
7. God is close to you when you are broken-hearted.
God is your comforter and is particularly close to you when your heart is hurting and broken. And when your heart is sincerely sorry for your mistakes, and humbly and truly sad for your poor choices, He saves you and rescues you without delay.
Psalm 34:19 (AMP) The Lord is close to those who are of a broken heart and saves such as are crushed with sorrow for sin and are humbly and thoroughly penitent.

 
8. God strengthens you, upholds you, and sustains you when you fall.
There are so many ways to fall. It could be something that happens by accident, something done to you on purpose, or something you have chosen. But when you do fall, God's strength is available to you and He can't wait to hold you up and sustain you.
Psalm 145:14 (NASB) The LORD sustains all who fall and raises up all who are bowed down.   Isaiah 41:10 (ESV) Fear not, for I am with you; be not dismayed, for I am your God; I will strengthen you, I will help you, I will uphold you with my righteous right hand.

 
9. God protects you and watches over you.
God always has your best interest in mind, and is relentlessly advocating for you. And like a proud papa, He is protecting you in every moment.
Psalm 121:7-8 (NIV) The LORD will keep you from all harm— He will watch over your life; The LORD will watch over your coming and going both now and forevermore.

 
10. God gives good and perfect gifts.
No matter how life may seem, God's ways are not our ways and His thoughts are higher than our thoughts. And all He gives is a gift from Him, even though we may not understand.
James 1:17 (ESV) Every good gift and every perfect gift is from above, coming down from the Father of lights with whom there is no variation or shadow due to change.   Romans 11:36 (NASB) For from Him and through Him and to Him are all things. To Him be the glory forever. Amen.

 
May your year heart rest as you remember His promises, is my prayer.

What is your favorite promise?
How have you experienced it in your life?
Continuing on, in the counting of One Thousand Gifts {#1181-1195}with Ann and this community, and the Joy Dare of 2012 with a printable…
#1181 Imaginary play and dances
#1182  New roller skating fun

#1183 A servant-leader husband

#1184 Swinging hugs with tickles

#1185 Birth and the joy it always brings

#1186 Soundscapes music channel

#1187 Fitness Pal App

#1188 Closeness that homeschooling has brought

#1189 Cleaning as a family

#1190 XM radio renewal

#1191 Soft sheets

#1192 Wonderful dinner with friends

#1193 Uninterrupted sleep

#1194 An amazing date night…sushi, Pinkberry, & Foot Reflexology

#1195 Knowing He is with me wherever I go…