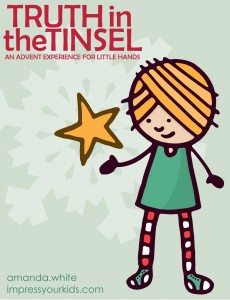 I have always wanted to do something amazing for advent…you know, like a pocket calendar, prizes behind opened doors, or a paper chain counting down the days…something fun to teach the kids about the Christmas season. I have wanted a way to build anticipation for Christmas, and to spend intentional time together focusing on the real reason we celebrate:
The greatness of God's mercy and grace toward us in sending His Son, that we might have forgiveness and a restored relationship with Him.
And while we've tried various activities the past few years that have been fine, I'm so very excited for this year, and can't wait to share with you what I've found!
I attended the Relevant Conference in October, and had an opportunity to meet some amazing women who are so very talented; women who love to equip others by sharing what they have learned and give us tools to do the same.
Amanda is one of those women! She blogs at Impress Your Kids, one of the best blogs providing ideas for activities with young children—ideas and activities that impress the Word of God on their little hearts.
She has written a brand new ebook: Truth in the Tinsel: An Advent Experience for Little Hands, which I just purchased and printed out—and I can't be more excited about it!
In Truth in the Tinsel, Amanda has graciously planned out each day, full of learning and experiencing the true meaning of Christmas with our kids. She has also included alternative schedules, if doing an activity every single day isn't feasible for your family.
Truth in the Tinsel is a hands-on experience that includes five components:
Clues for each day of advent, which you can place in your own advent calendar or pull from a paper chain.
Scripture to read each day, leading you through the Christmas Story. (And the kids get to listen for each day's clue!)
An ornament to make together based on the clue—a project for their little hands.
A "Talk About It" section to guide your conversation as you create your ornaments.
Ideas to further extend the activities as your day allows.
Since I'm not known for being the "crafty" type, I'm also thrilled to tell you that even I can do this!! Amanda has included a full supply list, a daily supply list, and step-by-step instructions with color pictures and templates. It is nothing short of incredible!
And what I really love about this, is the heart of what Truth in the Tinsel provides…
I can't wait for December 1st to arrive!  To watch the excitement and anticipation of the kids as we spend intentional time together focusing on the real reason for Christmas!
A BIG thank you to Amanda for providing this..what a blessing you are! And I'm thinking this may just become an experience the kids BEG to every year, becoming a new advent tradition!
Won't you join me? I will guarantee you, you will be so glad you did!
May your advent season be blessed!


Click here to buy Truth in the Tinsel now, for just $4.99!
Also, join the Facebook Truth-in-the-Tinsel Community, to share the experience!
Here's answers to some frequently asked questions and you can read what others are saying about this amazing experience!
What is your favorite advent tradition?
*this post contains affiliate links.