To grow is in the dying.
The falling of leaves in autumn.

The pruning of roses in winter.

Pruning what is good to allow for the growth of that which is greater.
He requires it and I long to follow and obey. I long for Him to transform me into His likeness, in whatever way best accomplishes the change. It is painful to die to self, to crucify my desires–to lay on the altar day after day.
When the kids refuse to listen and friends are too busy.

When my husband works long hours,

and I'm overwhelmed with the pace of it all.
It is painful and just plain hard, to refuse the selfish reactions and instant gratifications. To respond with the fruit-of-the-Spirit reactions instead of what I want to say and do…
That is dying, and in that I grow.
To see the thanks in each moment is the challenge. Wow! Such a perspective shift off of self and on to Him.
To see all He gives, instead of focus on all I lack.

To be thankful for what is, instead of wish for what is not.
And in the practicing of the dying…in self-sacrifice,
I suffer.

I'm stretched.

I'm pruned.
Ah…but I grow.
And He takes the yuck in me as I lay it down in each moment. And as I sacrifice myself and choose to die, it is then that He works in me. To die, so I can grow. And in my weakness He is strong and He produces the transforming beauty in me that He had in mind for me from the beginning of time.
May it be so for each one of us, is my prayer,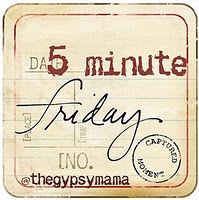 I'm joining Lisa-Jo, over at her site today, to take five minutes and just write without worrying if it's just right or not. The challenge is to write for 5 minutes flat with no editing, tweaking or self critiquing, with the prompt she gives. And today, her prompt:
Grow…