It's been said that beauty is in the eye of the beholder…and isn't it? 
And isn't it true that everything really is a choice?
A choice to behold the beauty in the moment…to really SEE it.
To open our eyes, and shift our pessimistic and prideful perspective, to take on His.
Him who created all things…
who fashioned the earth,

who sculpted the skies,

who hung the stars and breathed life into my frame.

Him who knew my name before the beginning of time;

Who gives and takes away, and works His will and His way,

to make me new,

and whole,

and completely His.
He who looked upon all he had made and said…it is good. VERY.GOOD.
And do we choose to SEE this goodness…the goodness of the Lord…the beauty with which He blesses?
Ahh, in the wrinkles of my mama's hands, in the chirping of the morning birds, in the deep blue eyes of my husband-friend, in the soft blonde hair of my darling daughter, and the sweet smile of hers that melts me every.single.time. In my son's exuberance…in how he jumps and runs and plays, and yells and shouts and wrestles. This exuding of the fullness of life, with all the potential it holds.
All gifts…beautiful gifts, one thousand gifts  and counting…
…and oh how He gives, and blesses…
And no matter the mess I have made…
…how He makes all things beautiful in His time.
Oh how I want to SEE, to choose to see the beauty…
May you, with open eyes, SEE the beauty He has given you this very day…

What beauty have you chosen to SEE today that you may have missed?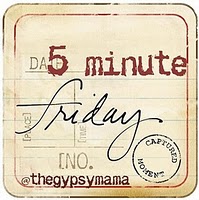 I'm joining
Lisa-Jo
, over at
her site
today, to take five minutes and
just write
without worrying if it's
just right
or not. The challenge is to write for 5 minutes flat with no editing, tweaking or self critiquing, with the prompt she gives. And today, her prompt: 
Beauty….