I know leadership is hard…

…and leadership can be lonely.
But without a leader, people are lost…without direction, unpurposed, and scattered.
A leader is vital and necessary…
to bring unity
to set the pace
to model the way
to direct and to inspire
And yet, the ones following aren't always unified. They don't always feel the pace or acknowledge the example. They don't always agree with the direction or feel inspired at all.
But could it be when that happens, it is really reflecting the quality of one's leadership?
I left her office last week fighting back tears. Feeling misunderstood. Me, being let in on a perspective I didn't know…the perspective of some of the people whom I lead…different opinions, personal perspectives, unique views of my effectiveness in my role as a leader.
And my ears opened, and my mind yearned to grasp the concepts, as I hung on each and every word…straining to sift through the microscopic details of who they see me to be. And while it was certainly not the opinion of everyone, and truly nowhere even near the majority view, enough had communicated concern to warrant a conversation.
And the concepts stung, and the knowledge of this view perplexed, and my head spun, as I took all the details in.
Who is this who sees me this way?
How did this happen?
Why am I misunderstood?
How am I failing to relay my heart's intentions for good?
What can I do to change these perspectives?
How can I change this around?

         
And she said sweet words, and expressed caring concern, her desire all the while for transparency, and for working all for the eventuality of my good.
She looked in my eyes with genuine compassion, and spoke affirmations to me, her, MY leader, a fellow-leader, knowing how hard it is to take it all in. She spoke cooling words to run over a heart just lit on fire with new information. And her gestures trying to blanket over the this raging fire and subdue it's burn.
And yet in these moments, isn't the fire necessary? Doesn't it burn away impurities? Doesn't it refine, and remake?
And after a kiln, isn't a piece of pottery even more beautiful than before? More enduring and unbreaking?
The certain challenge in the fiery moments is the pain of character refinement.
And not all people are open to the kiln. But being able to humbly see what truth is in words that are offered, and use the hard-to-hear words for good, by acknowledging our own certain weaknesses, ah….this is the goal, and the making of a true leader…one others are willing to follow.
Not all weaknesses are destined for certain defeat…
If we yield ourselves with humility
and surrender pride for a teachable spirit,
and open our ears to hear
and look within with challenging self-evaluation
…it is then we have the hope to become more. To emerge improved.
And amidst the fire, in the surrender to humility,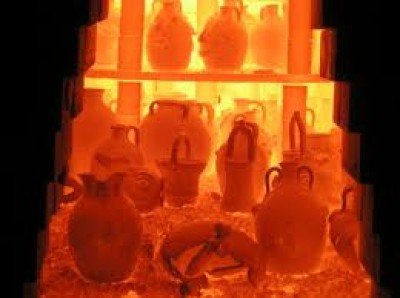 THIS
is where a leader is made.
I'm so grateful for that talk in her office, even though it was hard to hear. I'm thankful for her boldness and transparency, for her heart's intention to make me better, for the chance to grow and improve….
For the renewed purpose to lead with a servant's heart!

How have you been challenged to grow as a leader?